Activities
No matter when you come to see us a Gløtberget you will be spoilt for choice when it comes to activities in the nature.
What are you waiting for, contact us to make your reservation today.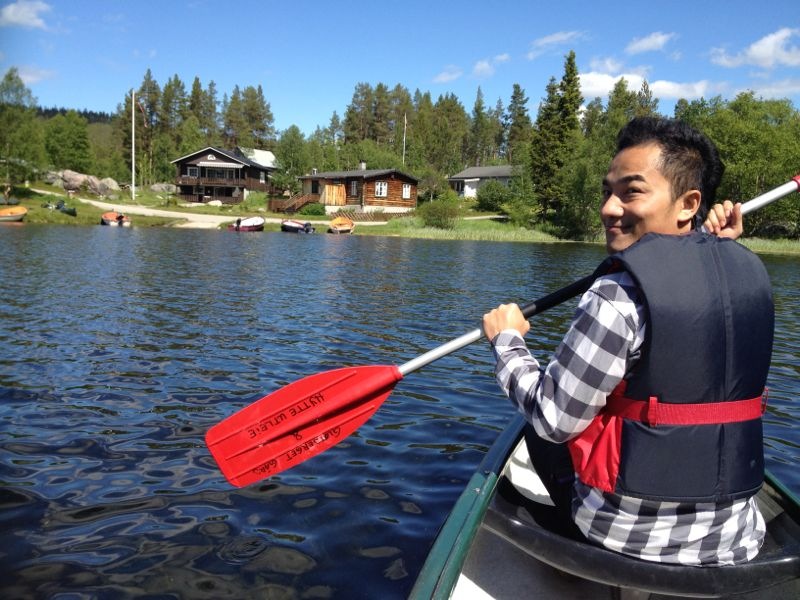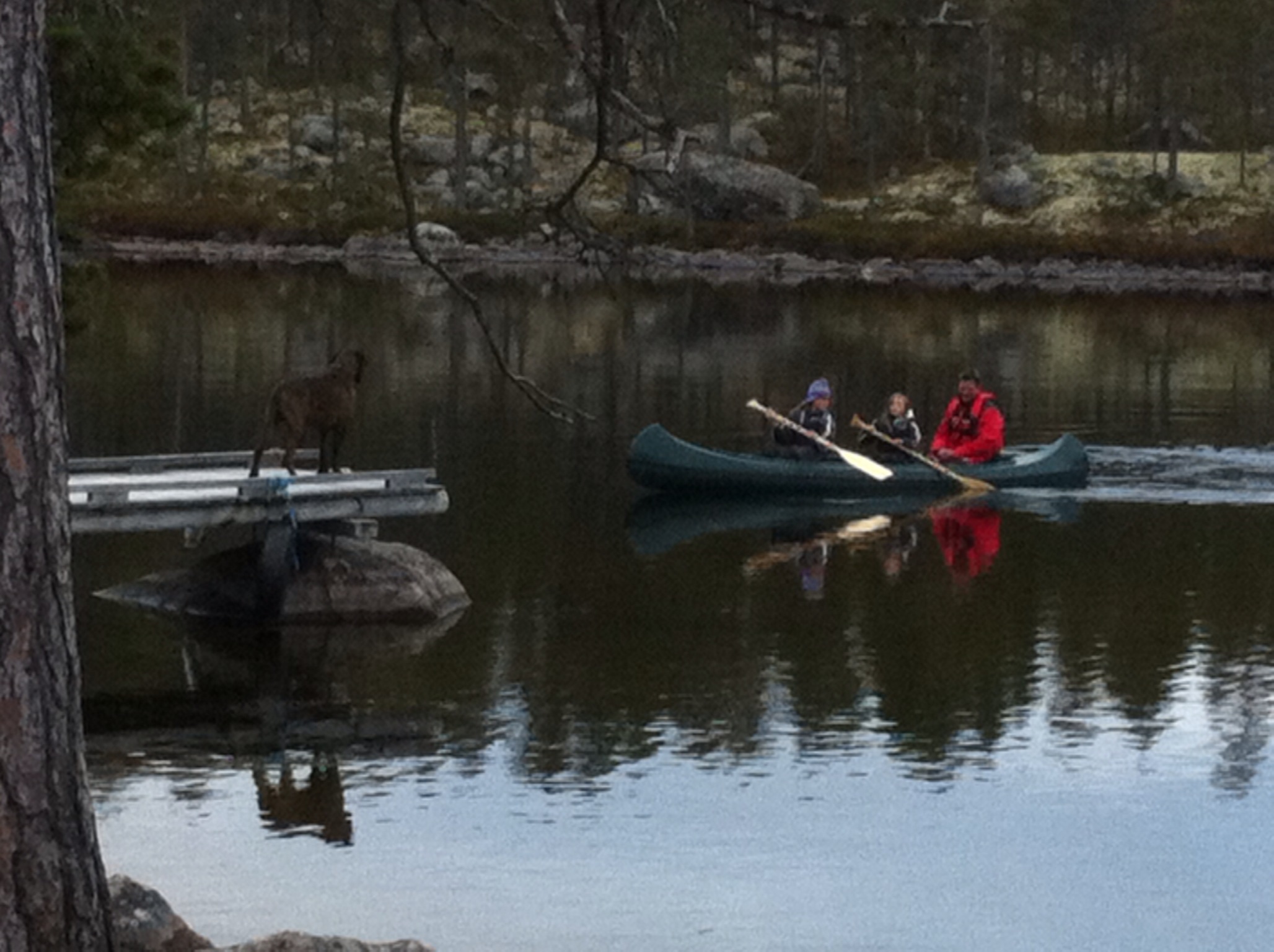 A great way to discover lake Isteren and the national park that stretches along its eastern shore is by canoe. You can bring your own, or rent one of the canoes we have at Gløtberget. Find a small island or a beach you like and setup your camp for the night, or taka a day-trip on the lake and try your fishing luck.
We have both rowing- and motor- boats available for rent at Gløtberget. These are available in the summer and autumn season when the lake is free of ice.
Boat Launching
For those that have their own boat we also offer a boat launch service at Gløtberget. Ask us for more information.
To fish in the Gløta river or in lake Isteren you need to have a valid fishing license. We have licenses for one day, week or year, please enquire when you book if you intend to fish during your stay with us.
Gløtberget is an ideal place to make your home base. From Gløtberget you can wander into the national park, be it for berry picking, bird watching, looking for wild animals such as Bears, Wolfs, Elk, Hares and Lynx or simply to explore the nature and come back to a comfy lodge at the end of each evening.
Ice Fishing – When king winter sets in the lake gets a thick layer of ice, which makes it ideal for ice fishing .
Snowmobile riding – In Sweden you are able to enjoy snowmobile driving, in Norway it is only permitted in designated areas.
Slalom – If you are a slalom enthusiast the closest slopes are at Sølenstua which is 15 min away, and Østfjell which is 30 minutes away from Gløtberget. If you want more choice Idre and Trysil are other alternatives.
Cross Country Skiing – being located in a mountainous region there are many tracks where you an enjoy cross country skiing close to Gløtberget. We make tracks from the farm through the forrest and also out on the lake, which makes for a great trip.
Skating – when the lake is frozen we often prepare a skating rink on the ice. Bring your own skates to become Bambi for a day.
Fishing – be it from the shore, a canoe or a boat, the lake offers great opportunities for fishing. Trout is the most sought after fish, but there are many other species that makes for a great dinner too.
Canoeing – rent one of ours or bring your own canoe. You can go out for the day, or bring a tent and enjoy a few days in nature on the islands or shores in and around lake Isteren.
Bird watching – across the lake you find a Bjørnberget national park where you can spot eagles and many other birds.
Rowing – if you like a peaceful way to explore lake Isteren, why not set out on a rowing expedition in one of our boats_
Trekking – the best way of discovering nature is being in it. Set out on a hike from Gløtberget and discover all the forrest has to offer. Thread carefully as there is a lot of wildlife in the area.
Berry picking – towards the end of the summer the wetlands around Gløtberget has a lot of berries to offer, blue- cran- and cloudberries are easily found within walking distance.
Swimming – Clean cool mountain water is refreshing and makes for a perfect way yo cool down in the summer months after a hike or day rowing on the lake.
Rafting - Gløta the river that connects lake Femunden with lake Isteren is a steep river that offers great
Røros – one of the world heritage locations is a mountain city about 90 minutes drive away from Gløtberget. Here you can discover the old mining traditions, and also see the work of local artists. Røros is a busy little town, and also has good shopping facilities and a licensed liquor shop, or vinmonopol as it is called in Norway.
Idre – about 40 minutes drive from Gløtberget you have the Swedish village of Idre. Tis is a popular destination to purchase food and other groceries at EU prices. Idre is also heaven for skiers with a vast selection of slopes and difficulty levels.
Engerdalsdagene – every summer the local businesses come together to create an event promoting Engerdal and the people and businesses in it. Here you find great offers on locally produced goods and get a chance to meet people from the local area and everyone who loves to visit.
Elgå – this lakeside village is the port for the old fashioned boat Femund II that runs between Elgå and Røros in the summer. Elgå also has a nice restaurant and makes for a nice summer dining experience in the summer.
Krysset Restaurant & Cafe - is a restaurant in Drevsjø where you can purchase local dishes, kebab, pizza and other international menu items. Check out their Facebook page here (page is in Norwegian). You can also order take-out here to consume at Gløtberget.
Sølenstua – restaurant and ski center, is 15 minutes drive from Gløtberget. Here you can enjoy skiing, and relax in inviting surroundings for your after ski meal.
Trysil – about 75 minutes away is the ski destination Trysil. Here you have skiing in the winter and trekking opportunities in the summer. Trysil has many privately owned lodges and has an explosive occupancy during the winter season and as a result many restaurants, shops and entertainment venues has popped up here. In Trysil there is also a licensed liquor shop for those who would like to buy wine or other alcoholic beverages that are not available in the grocery stores in Norway.
Tynset – about 90 minutes from Gløtberget offers shopping facilities. Tynset is a cheerful village where you can find a good selection of shops, a licensed liquor store and a good selection of restaurants.
Destination Femund & Engerdal - for more information about what to do in the local area please take a look at the information available from Destinasjon Femund Engerdal
Shopping – the closest store is in Drevsjø, where you find Joker and Krysset Cafe, if you would like more selection the closest shopping facilities are at Idre, Røros, Tynset and Trysil. There area also shops at Sømådalen and in Elgå.
Safety on the lake - as we are in the mountains the weather can change very fast. We encourage everyone setting out on the lake from Gløtberget to notify us where you are going and how long you plan to be away, so that we know where to look if you should go missing. All use of the lake is at your own risk and responsibility.
Sweden – the Swedish border is not far from Gløtberget and as we are part of the Schengen area you can cross the border as long as you bring your passport with you. Many guests pop over to Sweden to shop groceries as many items are cheaper inside the EU.
Local Area – Gløtberget belongs to Drevsjø, which is a village in Engerdal district in Hedmark county. You can find out more about the area here, or at the Engerdal website.
Firewood – if you are staying in our lodges we offer free firewood. There is a small supply available when you arrive, and you can collect all you need for your lodge in the woodshed.
Alcoholic beverages – in Norway you can purchase beer in the grocery shops during set hours, if you would like wine or spirits you need to purchase these from a licensed liquor shop, or "Vinmonopol", the closest ones are located in Trysil, Tynset and Røros, or you can drive across to Idre in Sweden and purchase at their licensed liquor shop "Systembolaget".
Pets – we allow dogs in our lodges, but there is an additional cleaning charge if you bring your dog. We also ask that your dog is kept on a leash whenever you are on the farms property.
Parking - if you would like to launch your boat and canoe from Gløtberget you are more than welcome to do so, we charge a parking fee when you are out on the lake, so please stop by the reception upon arrival to organize your parking. Only park where instructed, or your vehicle may be removed at your cost.